Para preparar una próxima visita al parque de Bomberos, haremos varias actividades relacionadas con el tema.
0. LECTURA
Libros ya en nuestra Biblioteca:
Revista Popi
Juego con el camión de Bomberos
Buscar libros en la Biblioteca pública:
XXX
1. MOTRICIDAD GRUESA
Movimientos y juegos
Danza
Juegos de interior
Prácticas en caso de fuego: arrastrarse, rodar, etc…
https://funlearningforkids.com/rescue-alphabet-game/
…
Juegos de exterior
ABC game: A todos los niños les encanta el agua.
2. MOTRICIDAD FINA
Destrezas manuales: pintar, modelar y pegar
Arte: buscando libre expresión
Five firefighters Handprint
Plantillas en: https://www.kidssoup.com/member/node/3482
Bombero escalador
Escalera con palitos de helado
…
Cascos de Bombero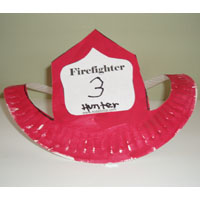 Casco de bombero: http://momstown-toronto.blogspot.com/2012/09/how-to-make-fun-and-super-easy.html
Varias manualidades
Fire Dog cup puppet: http://twigglemagazine.com/September-activities/fire-dog-craft.html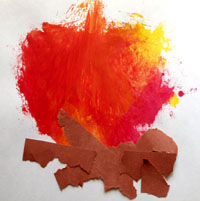 https://www.kiddycharts.com/printables/fireman-activity-kids-free-paper-dolls/
https://funhandprintartblog.com/footprint-firetruck-handprint-fire-thank-you-to-the-firefighters.html
https://www.thecrafttrain.com/egg-carton-fire-truck-craft/
Pop-up firetruck
3. CONOCIMIENTOS
Música
Idiomas: Incluir algunos de los idiomas no maternos (Castellano): Euskera, Inglés, Lenguaje de signos, etc.
Matemáticas: Formas, colores, tamaños, conciencia espacial, contar, números, etc.
Conocimientos propios del tema
Otros conocimientos.
Ciencia
Experimento: Qué apaga el fuego
Five Firefighters Rhyme
Música e inglés con «Five Firefighters Finger Play»:
This firefighter rings the bell. (Point to thumb.)
This firefighter holds the hose so well. (Point to index finger.)
This firefighter slides down the pole. (Point to middle finger.)
This firefighter chops a hole. (Point to ring finger.)
This firefighter climbs higher and higher. (Point to pinky finger.)
And all the firefighters put out the fire!


1-10 Puzzle
Trabajando matemáticas además de la destreza para recortar las tiras de papel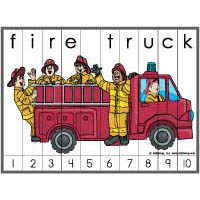 I spy
Vídeos
4. COCINA y otras actividades
Recetas trabajando el tema
Galletas con forma de camión, mangueras, escaleras, escudos, etc.
5. SALIDAS CULTURALES
Visita al parque de Bomberos
Recopilación de recursos
http://homeschoolcreations.com/firemanlapbook.html
Para revisar